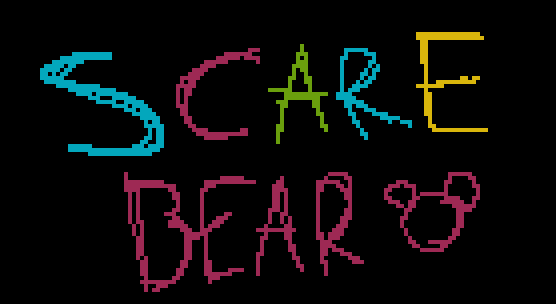 ScareBear
Made within 72 hours for Ludum Dare 37 by a team of young'ins, Robin Field and Billy Hobson.
Themed around one room, your bedroom and the extravagence of a child's imagination.
Make friends with a chivalrous knight and a very sad doll- and overcome your fear.
Arrows - Movement
X - interact
Z - Dodge
You can press P to skip the 'find the dancers' section of the game, although I highly recommend listening closely to doorways and trying to figure it out, as you'll be missing out on a large portion of the game.

(Follow the music)

It's a bit of a weird one,and painfully rushed and incomplete,but hopefully enjoyable. :)
(Ludum Dare link: http://ludumdare.com/compo/ludum-dare-37/?action=p...)
(Updated: Fixed shadows randomly refusing to display, fixed some more collision problems, attempted to fix bug with getting the dress, although I don't think it's quite fixed yet.)

Download
Click download now to get access to the following files: