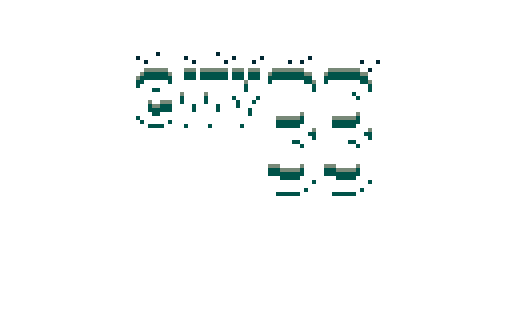 City33
City33 Update V 2.0
Pretty big update that changes/adds a lot, sat on the backlog for a good while so I'll document what I remember doing.


CHANGED
The pistol-upgrading system has been replaced with a selection of purchasable weapons/items and inventory slots, for better or for worse.
As a result of above, the player now starts with a knife instead of the pistol.

The bed now has a timer that only lets you sleep when you're tired enough.
Replaced pokecenter reference with a more generic hospital design; I just thought it was a little too silly. :P
Banks now give a little less money.
Many sprites and tiles have had their spritework tweaked and improved.

ADDED
Customisable Options:
Various settings can now be customised in the pause screen, this includes sound volume, screen scale and keyboard inputs.

Crawling:
You can now crawl to approach enemies closer from behind and also hide behind low-height surfaces, such as furniture.
Alongside the above, I've also added a bunch of destroyable decor and plants for you to hide behind and set on fire as you please.

Added Upgrade shops:
Upgrade shops kinda replace the old style gun shop, although the upgrades you choose have been changed to fit the new weapon system.
There are two upgrade shops you can find in the city.


Health Insurance:

Those who visit the hospital can now purchase health insurance for a hefty price, this allows you to respawn after death, only once per purchase.


Weapons you can buy:
Regular Gun Shop:

Knife
Pistol
Submachine Gun
Shotgun
Ewan's Bangers:

Smoke Grenade
Riot Shield
Flamethrower
Driveable Vehicles:

You can now find bikes parked around the city, hacking these will allow you to get around much faster; keep your eyes on the road.

Ai:
Cops and Bounty Hunters will now attempt to approach their targets last position if they've lost sight of them.
Characters:
Added a Shotgun Cop, upgrade salesman and some strange fellas south of the city.

Talking:
The city should be a lot more talkative place now, civillians will chat with one another, shopkeepers will greet you and alongside this; several voice lines have been recorded to enhance the liveliness of the city.


Other:
Other stuff has also probably been added that I don't remember, thanks for playing.


Files
City33 2.0 (Latest)
55 MB
Apr 29, 2022
Comments
Log in with itch.io to leave a comment.
Finally the update is here which should make the game more accessible and maybe at least a bit easier?